Being focused on the tech, this is an area that a lot of bloggers can end up missing leaving a lot of traffic on the table.
I would even argue that writing an effective blog post title is one of the most important parts of your blog post. It's definitely something to take seriously.
1. Titles get you noticed
According to research by Biran Clark, CEO of CopyBlogger, an average 8 out of 10 people will read your headline title but only 2 out of 10 will even bother to look at the rest. [1]
__So you pour yourself into an amazing blog post but miss out of 80% of your potential traffic. __
Whether the research is accurate or not, the title does tend to be the first thing that searchers see of your content.
Taking a structured approach and implementing some viral elements will help to improve your odds of enticing more visitors.
I've run over various research and have captured some of the aspects and tools that can help you write a stronger headline.
2. Elements of Great Headlines
SEO Engine Land, an SEO company, working with Moz conducted a study on viral content and and found that there are five elements in blog post titles and headlines that helped give it more of a viral effect. [2]
I am not saying that if you do these things than every post will go viral – that rarely happens these days. But being mindful of their proven impact can help you attract more traffic.
Format
Emotion
Content type
Promise
Keywords in the title
2.1 Format
According to CoSchedule [3] and their research across millions of sites there are three types of effective title formats:
List Post Headlines
'How To' Headlines
Question Headlines
The List Post identifies 5 or 10 things that make up whatever you're talking about, such as "5 tips to writing better headlines".
The 'How To' headlines are more in-depth guides, the pillar posts, that indicate a level of instruction with the element of promise that visitors will take something away.
Question Headlines use a question as the title of the post, that's super effective as it directly reflects the individual's search intent.
2.2 Emotional hook
Emotion is the trigger that connects people with the content.
If you're pouring yourself into a blog post, you're probably also pouring your heart into the blog post. You will definitely want that raw emotion to come through into the title.
There are three types of emotional words useful to blogging.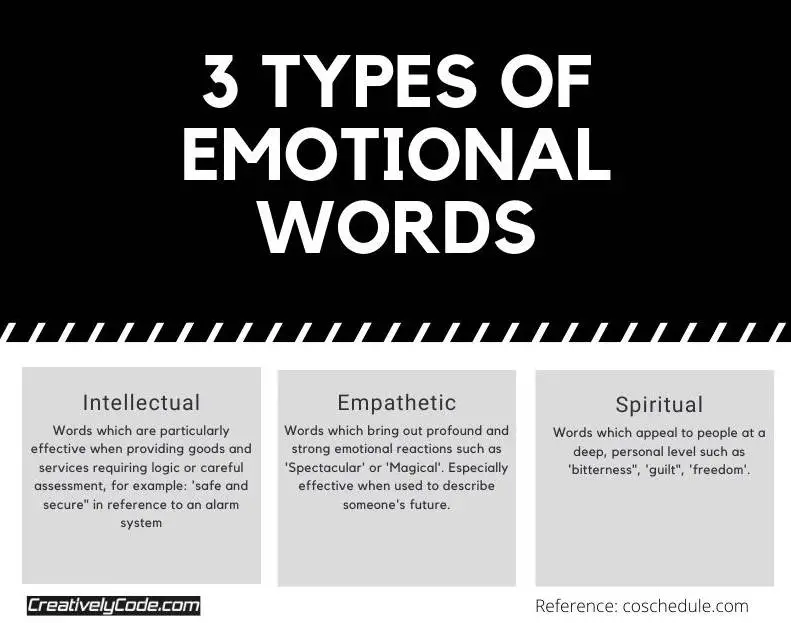 The Persuasion Revolution [4] has an extensive list of words that provoke different emotions. Connect words to the emotion you to bring out in people in relation to your product.
Using adjectives such as 'mindblowing', 'essential' and 'brilliant' can really boost your viral credentials,
2.3 Expressing the Content type in the title
This works very well for a list type post, '10 hacks, 10 tips, 10 predictions, 10 hacks to get better at…..'
Expressing the type of content that searchers are going to find in the post has been found to help create a virality effect.
2.4 The Promise
The promise is the thing the reader will walk away with if they read your content.
Given the following title; "five tips for learning code faster that you can start today". The promise is that visitors will expedite their learning and as they can start from 'today', it also communicates subtly that it'll be easy.
2.4 Keywords in the post title
Including the keywords associated with the blog post in the title can really help searchers not only identify what the content is about but also helps you a lot with things like search engine optimization.
Your post post have a better SEO rank for that keyword.
3. Evaluating your title
I suggest writing out as many variations for your title as possible; as many as 15 - 20 is a good idea.
The next step is to determine then which is the best.
These tools can help you decide:
EMV headline analyzer The EMV headline analyzer is focused on emotion.

Coschedule Headline Analyzer This tool provides a more thorough analysis and provides reports on length and structure, grammar, and readability.
Don't lock yourself into chasing high scores if it doesn't fit with your blog post. In some cases, particularly for serious informational pieces, it's not going to make or break your post.
4. Other tips
4.1 Be different
Look at the titles of similar posts in Google to get an idea of what's been done and how you can stand out. So if your post subject concerns the keywords "getting more Twitter followers,". The typical titles you'll find in Google are "ten ways to get more twitter followers "or "25 tips to get more twitter followers", etc.
In order to really grab your reader's attention, try adding the word "premium", for example, "ten premium ways to get more twitter followers".
The word "premium" is a word that isn't seen that many times when it comes to showing people how to get more twitter followers. You can go on step further: 'Secret methods to dramatically increase twitter followers'.
Remember to keep, it's essential that the title still makes sense and that it's right to the point.
4.2 Avoid complex words
Any person of any age of any educational background can visit your blog, so using words that not everyone knows what they mean can put people off.
People using search engines tend to want quickfire, easy to understand answers to their queries.
For example, instead of the word talisman, you might want to use the word lucky charm instead
4.3 Tell people to take action
Instead of having a title like "why you should learn to code", try "why you should learn to code today"
This incentivizes the keen searcher to click on the post with the promise of little impediment to getting them set up and taking action on their dreams.
4.4 Length
Six to seven words
Headlines that are roughly six to seven words tend to perform better than blog post titles that are only three words or twenty words.
Why?
Because it's either too little and doesn't fully express to the reader what they're going to find or it's just too overwhelming and complicated.
People have pretty precise ideas on what they want to find when searching online. It would help if you appeared to answer their query efficiently, starting with the post title.
Six to seven words also fits nicely on Google and won't be cut off your title.
4.5 Consider the year
For some detailed articles ,you can put the year in the title, for example, "The beginner's guide to Javascript", you can put within the title "updated for 2017" or "updated for 2020".
This can create more clicks as people know the content is relevant and fresh. Mainly applicable to tech content that is continuously updating.
4.6 Use a title generator
There are useful tools online that will take your keywords and come up with snazzy titles.
4.7 Optimisation by platform
Search Engines (meta title/description)
Blog post
Social Media
E-mail campaigns
Your post is optimizable on search engines by editing the metadata.
Search engines are the only place the blog post titles show up.
You may be advertising the post in e-mail campaigns and sharing it on social media.
What's right for one space is not necessarily right for another space.
Social media has a different vibe where people have different motivations. Similar to email campaigns, the post title may not necessarily be the best subject line. I have a post coming soon on this subject.
5. My step by step process
Let's use this post's title as an example.
5.1 Establish your key words
write, tech blog, titles/headlines/heading
Remember that including some of your keywords in your title helps with SEO.
5.2 Filter synonyms
Blog titles are often referred to as blog headlines and even headings. It's important to establish which term has the most search volume in order to decide which one to use.
I used Google trends to compare the three and discern which gets more traffic.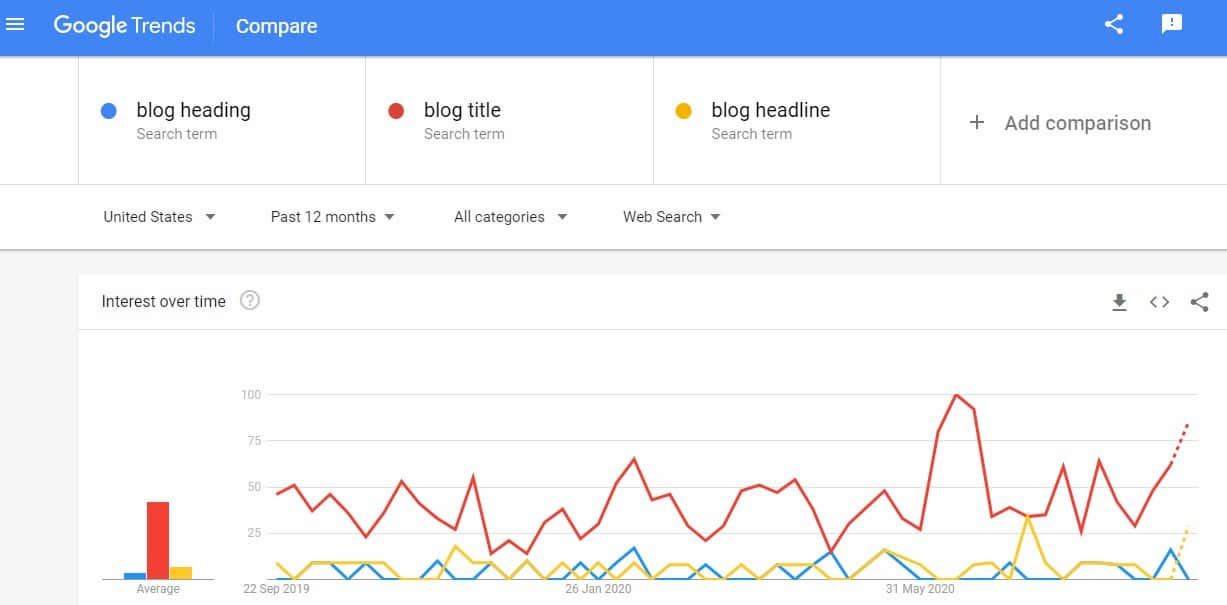 At the same time, I also tested the search results in Google and found that 'headline blog' has significantly less results. This could be an attractive option if I wanted to have a better chance of beating out the competition despite the significantly lower traffic volume.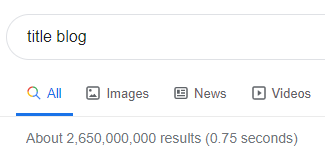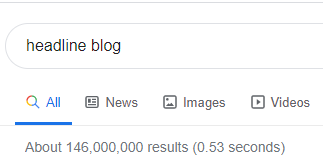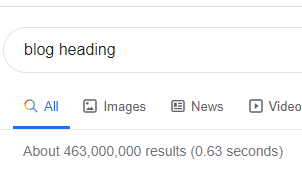 Tempting as it is, ultimately I settled on 'post title' as I've already niched down by target tech bloggers and 'title' just feels more correct - headlines are associated with the press and heading is too technical. Hopefully, some of that traffic is in the tech blogging niche. Of course, I could always come back to this at a later date and test an alternative title.
5.3 Compile combinations
Compile lots combinations using Portent's title generator to help generate new ideas.
The more versions of the title you have, the better you'll be able to evaluate which one works best.
Try to instill an emotion impact and promise, I could include words such as:
compelling, powerful, effective, irresistible
Given that I'm targeting the intellectual sort of emotion, 'compelling' felt best. Try to apply some of the tips from section 4 in some of your possible.
Eventually, among the combinations I collected:
How to write Compelling Headlines for your Tech Blog
How tech bloggers Can Write More Compelling
Optimising post titles for your tech blog
Making effective post titles for your tech blog
How To Own Post Titles Tech Blog
Which I whittled down to:
How to Write Compelling Headlines for your Tech Blog
How tech bloggers Can Write More Compelling
For this particular article, I felt that including a Promise would be unnecessarily wordy (exceeding the recommended length), for example:
How to write Compelling Headlines for your Tech Blog that increase your traffic
5.3 Evaluate
Coschedule Headline analyzer: How to write Compelling Headlines for your Tech Blog -73 How tech bloggers Can Write More Compelling Titles -65
According to the analyser, "How to Write Compelling Headlines for your Tech Blog" has more of an emotional draw. Also 'compelling' appearing earlier in the title potentially has more of pull in search results. Both are the right length.
According to the Aminstitute Analyser, "How to Write Compelling Headlines for your Tech Blog" scored 11.11% on their Emotional Marketing Value calculator with a predominantly spiritual appeal whereas "How tech bloggers Can Write More Compelling Titles" scored nothing.
My final title is 'How to write Compelling post titles for your Tech Blog'
6. Final notes
Creating headlines that your audience can connect with isn't an exact science and at some point you will have to make the decision to settle with the title you have.
But generally, by working in an emotional hook, a promise, keywords and the content type where possible you may be able to bring on board some extra visitors to your site.
References
[1] How to Write Magnetic Headlines
[2] 5 brilliant headline hacks for crazy high organic click-through rates (Search Engine Land)
[3] How To Write Headlines That Drive Traffic, Shares, And Search Results
---
About the Author