What is the general salary of a web developer in London? Are they better paid than elsewhere? What are the long-term prospects for developers in London
In 2021, most junior London based web developers start their careers by being paid between an average of £27,500 gross per month (€ 1,560 to € 1,950 monthly). A few years of experience can bring that up to £40,000. A Senior Web Developer can expect to earn above £50,000.
Note: £1 =1.35 as of 20/12/2020
These figures are backed up by glassdoor.com, as of Dec 15, 2020.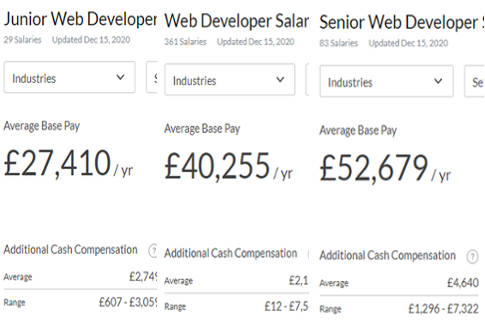 As you can probably see immediately, there is quite a jump in pay once a developer gets some experience under his belt.
This shouldn't come as a surprise though, experienced web developers are in demand and usually work in high-profile companies where their salary in relatively higher.
Depending on the number of languages mastered, their complexity, and experience, you can quickly increase your salary in London. Some salaried developers double and sometimes triple their entry-level wage over the course of their careers.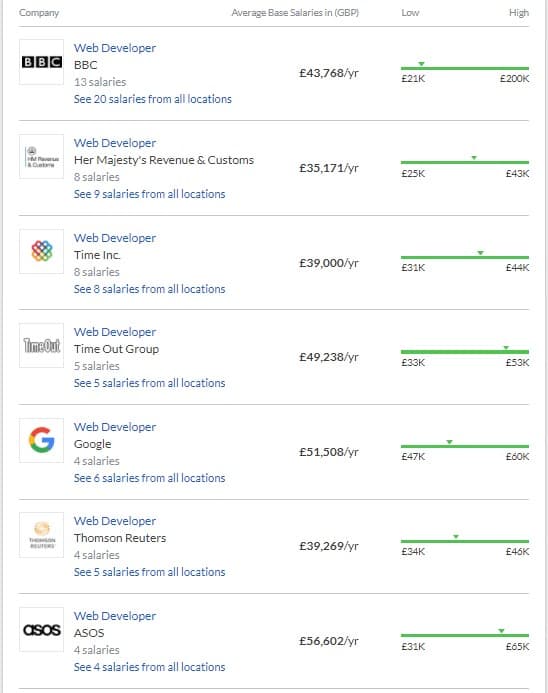 Source: Glassdoor.com
Furthermore, depending on the company you work at, you may also receive bonuses, a 13th month or other additional benefits (holiday vouchers, restaurant vouchers, etc.).
Front End, Back End, or Full Stack?
It's important to point out another factor that determines the salary difference between web developers: the type of development. Beginner, novice, and senior web developers are also categorized into three groups: front-end, back-end , and full stack developers.
Front-end developers are concerned with the visual side of the web page. As the front-end usually means the end-user side of a site, they work with graphics, interfaces, and everything in between.
Back-end developers are concerned with building and maintaining the 'behind the scenes' technology that powers the website. For example, producing the code that interacts with the database and retrieves the required data for display in front-end.
Full stack web developers This type of developer is considered a jack of all trades - full-stack developers are basically front-end and back-end developers combined. They work with both the visual side and the purely coded side of the site.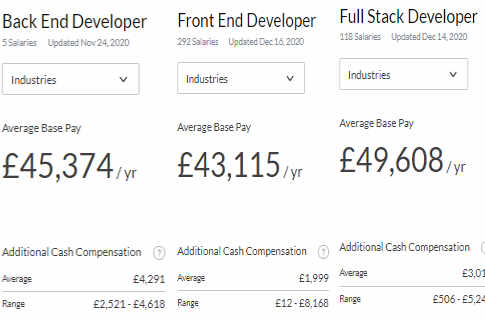 Source: Glassdoor.com
Needless to say, since full-stack development requires the most time and skill, these developers make the most money out of these three groups.
The Salary of London Web Developer Relative to Other Regions
Let's analyze a web developer's salary from a geographic point of view.
Without a doubt, London is the highest paying region for web developers in the UK.
| City | Difference in pay |
| --- | --- |
| Edinburgh, Scotland: Edinburgh | ▼14% |
| Glasgow, Scotland: Glasgow | ▼17% |
| Manchester, England: Manchester | ▼18% |
| Birmingham, England: Birmingham | ▼20% |
| Brighton, England: East Sussex | ▼20% |
| Bristol, England: Bristol | ▼22% |
| Sheffield, England: South Yorkshire | ▼22% |
_Source: payscale.com_

But you must consider how the salary is relative to cost of living! And London is an expensive city.

A 1 bedroom apartment in a central location will set you back around £1,690.04 monthly with utility bills of £177.87 Source: numbeo.com
What are the Future Prospects of Web Developers in London?
Demand for web developers in London is booming. A simple LinkedIn search on the date of writing returns 1,484 results.
On another positive note, web developer jobs are expected to increase by 13% between 2018 and 2028. That number may not seem overwhelming, but the typical job growth across all industries is only by 5%. Information technology is a booming industry in general, with 12% growth in IT jobs.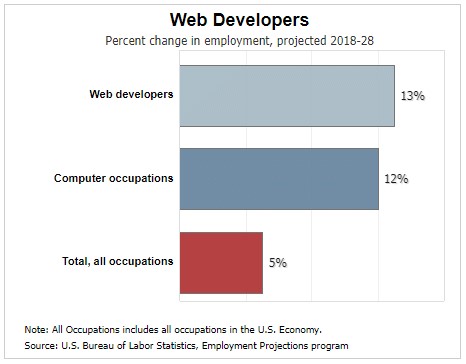 With technology constantly evolving, more and more companies are choosing to recruit web developers to expand their reach and push the boundaries on their web presence. The day when web developers will no longer be need is far away.
In addition, tech companies in London such as Facebook and Google, among others have a reputation for offering dynamic and excellent working conditions (whether it is a nice modern office or the possibility of working from home), regular team building activities, all-expenses paid travel for conferences and seminars around the world, paid vacations, birthday gifts, gadgets and much more! While these are things are often left out of work conversations, they add up to create amazing working conditions with added benefits.
---
Frequently Asked Questions
Nowadays, coding has come a long way and it's difficulty really depends on the level on which you program.
Check out this article.
Learning to code depends on how you defined "having learned to code?", if it's getting ready for employment in software then you're looking at around a year.
However, there are some important factors that you can read more about here:
This article explores how coding effects the coder beyond the code itself and whether the problem solving we do on-screen has an impact on our ability to problem-solve off-screen.
About the Author